Shenzhen Yiwu Small Commodities Wholesale City
Here is a market/mall packed with shops that's probably known mostly only to locals, but if you are going to be in living in Shenzhen, or staying near the Universiade Village in Longgang district, then you might want to take a look. It's the Shenzhen Yiwu Small Commodities Wholesale City, or Shenzhen Yiwu Smallware Wholesale Mansion depending on who's doing the translation..
To explain, Yiwu is a city located in Zhejiang province and it's famous the trading of small commodities to the domestic market and international markets. The Yiwu Wholesale City in Shenzhen was established by co-operation between the two city governments.
After getting out of the taxi at the main gate it felt a little like rural China, unfinished roads, horns tooting, people, bikes, cars and buses heading in all directions. That beautiful harmonious chaos that China does so well! The area is not exactly the modern looking sparkling Shenzhen that you would know from places like Coastal City at Nanshan or the MixC mall at Louhu. Walking down Hongji Road there's lots of street side shops offering jewelry and leather goods and the like. A little further along is the main building of Yiwu Wholesale City which is 4 floors (only 3 active), clean and packed with small stalls/shops selling just about anything.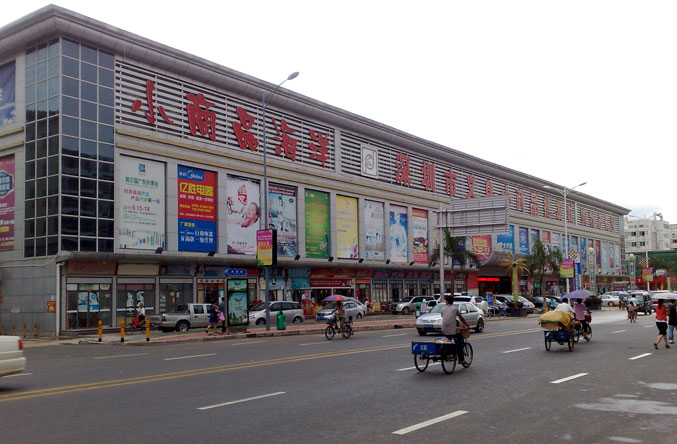 Products you can find there include jewelry, mens, womens and childrens clothes, cosmetic products, beauty salon supplies, haberdashery, flowers and a garden products stall (has fertilizer and potting mix), some fishing gear, jewelry, handicrafts, watches, small appliances, small amount of electronics, hardware, a couple of mobile phone stalls, home electrical products as in juicers, blenders and the like, health and sports equipment, office supplies, knitting supplies, bedding, baby products, toys, shoes, hats, fabrics and more. There's also lots of home wares including kitchen utensils, pots, pans, tupperware, mats, brooms and lots of plastic products that you would use around the house.
You can buy single items but you will find that some stores offer big discounts if you buy a bunch of stuff, for example one fashion accessories store offered 40% off when purchasing 20 or more items (note that the items where no more than 15RMB each).
Getting There: Take the Metro line 3 (Longang Line) to Shuang Long 双龙 station. There is a Rainbow Shopping Mall there with a KFC and McDonalds. Catch a taxi from there to the address below (not far, from memory only 10-15RMB).
Address: 6 Hongji Road, Longgang, Shenzhen. 义乌市场青岛啤酒美食街
http://shenzhenshopper.com